Beyond Engagement: Strategies for Persuasion and Influence
Increasing engagement has long been a focus in healthcare. The idea is that if people are more actively involved in their healthcare, better health outcomes will result along with reduced costs.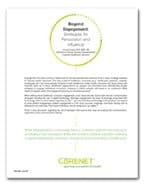 As a result, payers and providers have optimistically sought strategies to better engage their populations. However, a critical question still needs to be addressed: What needs to happen within the engagement journey to maximize success?
Carenet's director of clinical solution development, Jennie Echols, PhD, MSN, RN, addresses this question in her new white paper Beyond Engagement: Strategies for Persuasion and Influence.
In this white paper, you will learn:
Engagement models that include the six principles of persuasion, such as social validation, scarcity and authority
Why it's critical to include influence and persuasion tools in your engagement strategy
How to apply the persuasion principles to activate healthcare consumers
The key elements of successful persuasive technology
The importance of assessing healthcare consumers' motivational readiness
Learn all of this and more by downloading the whitepaper today. Simply complete the form on this page.