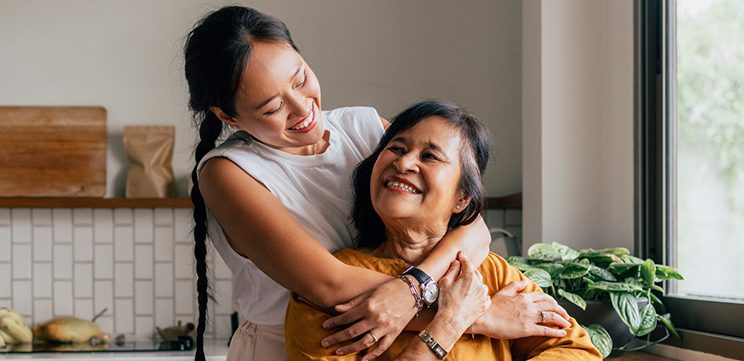 Best Practices in Maximizing Mammography Screening Rates
– Adam Donaldson, MHA, BS(MIS), RT(R)(ARRT) –
Annual mammography screenings are critical to the health of women and are recommended for all women starting at age 40.  The American College of Radiology estimates that mammograms have helped reduce breast cancer mortality in the U.S. by nearly 40% since 1990 and similar studies by have reconfirmed that regular mammography screening cuts breast cancer deaths by roughly a third in all women ages 40 and over, including women ages 40-49.  In fact, mammography is the only test shown to reduce breast cancer deaths, and detecting breast cancer early when it's most treatable improves survival rates.
Carenet Health has developed industry best practices for maximizing annual mammography screening rates. Hospitals, Imaging Centers, Women's Health Clinics, and Mammography Centers can hope to see an increase of breast cancer screening rates of up to 50% by utilizing these industry best practices in connection with medical appointment scheduling.
Mammography Screening Best Practice: Engaging and Training Primary Care and Referring Physicians with Online Self-Scheduling
Referring physicians are the life blood to radiology practices, and primary care visits are the perfect time for providers to engage patients in discussions about their preventative health options including screening mammograms.  Moreover, when it comes to ease of access into your organization, there is no better option than online self-scheduling.
When imaging centers are armed with online self-scheduling, Carenet Health has witnessed those clinics with the highest patient volume have spent time with their referring clinics, discussing their online self-scheduling capabilities, educating referring providers about how easy it is for their patients to self-schedule screenings.
These conversations have included the following tips and advice:
The link to their online schedule can be easily bookmarked on a clinic tablet and given to a patient to use
Posters could be hung in the examination rooms complete with a QR code that when scanned, quickly and easily pulls up the online screening mammography schedule on the patient's smartphone.
Staff can be taught to encourage self-scheduling when checking patients in or out of their screening appointments
If you use online self-scheduling, meeting with your referring providers and educating them on your patient self-scheduling success, providing them with resources they can offer to their patients that make it quick and easy to find and schedule care, is time well spent.
If you need help with planning these discussions, your Carenet Health Account Manager will be happy to help guide you and even participate in meetings.  If you need help generating a QR code to place on your collateral material that will hang in the examination rooms, Carenet Health can help with that as well.  And if you are not yet a Carenet Health customer and wish to be able to offer referring physicians a quick and easy way for their patients to access your screening mammography schedule, please contact a Carenet Health Strategic Sales Executive who will assist you in maximizing your mammography screening rates.
Mammography Screening Best Practice: Maximize Rates with a Multi-Tiered Approach to Patient Reminders
The Journal of the American Board of Family Medicine published an original research article in titled "Improving Breast and Colon Cancer Screening Rates: A Comparison of Letters, Automated Phone Calls, or Both" where their aim was to understand the differential effects of low-cost automated telephone and personalized letters on cancer screening rates.
Their findings indicate that specific to mammography screening rates, utilizing  both a letter and an automated phone call nearly  doubled improvement over just letters alone, and 1.6x improvement over automated phone calls alone.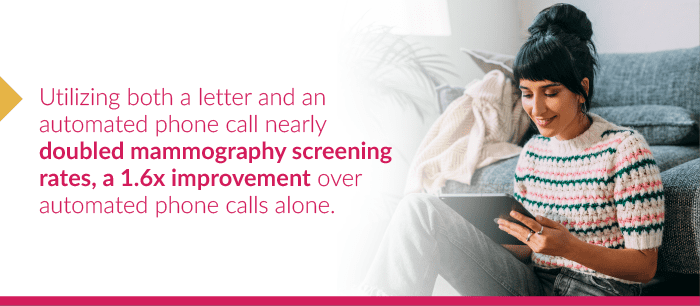 With a combination of personalized letters and automated phone calls proving to be so beneficial in improving the rate of screening mammography volume, let's explore each of these individually:
Mammography Screening Best Practice: Introduce QR Codes for Online Self-Scheduling to your Reminder Letters
Your RIS (Radiology Information System) or BIRAD system does a great job of generating patient reminder letters for their annual breast cancer screening exam, but if you are not incorporating ease of access into your facility by offering a small QR code that links to your online mammography schedule onto your reminder letter template, you are missing a great opportunity to better serve your patients.  Utilizing technology on your reminder letters is a huge benefit to patients because it saves time and makes the scheduling process quick and seamless.
In 2021, 75.9% of women aged 50-74 years had a mammogram within the past two years.
Source: National Cancer Institute
Upon receiving their reminder letter, if patients have the ability to utilize their smart phone by scanning a QR code and accessing your screening mammography availability online, you will be rewarded with increased screening mammography rates.  Making this edit to your RIS or BIRAD system template is a quick and easy edit that your system administrator or RIS/BIRAD system vendor can perform.  If you need assistance in generating a QR code to incorporate into your personalized letters, your Carenet Health Account Manager can help you with generating a code that points directly to your online self-scheduling page.
Mammography Screening Best Practice: Double Rates by Leveraging Carenet Health's Communications & Reminders Solution
Carenet Health's Communications & Reminders solution provides hospitals, imaging centers, women's health clinics and mammography centers with low cost automated patient reminder services via SMS text messaging and/or automated phone calls.  Utilizing Communications & Reminders for low cost text and phone reminders in addition to personalized letters complete with a QR code to your online scheduling availability will help you achieve results similar to the study Phillips conducted, where screening rates doubled. SMS text messages can be personalized with the patient's name and include a link to your online self-scheduling screening mammography page for ease of access.
If you are not currently using Communication & Reminders to provide low-cost SMS text or automated phone reminders to maximize your screening mammography rates, contact Carenet to get started today.
Mammography Screening Best Practice: Talk to Patients During Their Visit About Online Self-Scheduling
Perhaps the easiest way to maximize your breast cancer screening rates is talking with your patients.  From the registration desk to the exam room, patients interact with a number of your staff, and each point of contact is an opportunity to educate them about online self-scheduling.  Front desk staff can assist patients in scheduling their next annual mammogram at a nearby self-service kiosk that consistently displays a webpage pointing to your online mammography availability.  When the exam is over, your mammographers could provide a business card with a QR code to your online mammography schedule.
Contact Us To Learn More About our Intelligent Scheduling and Communication & Reminders Solutions.