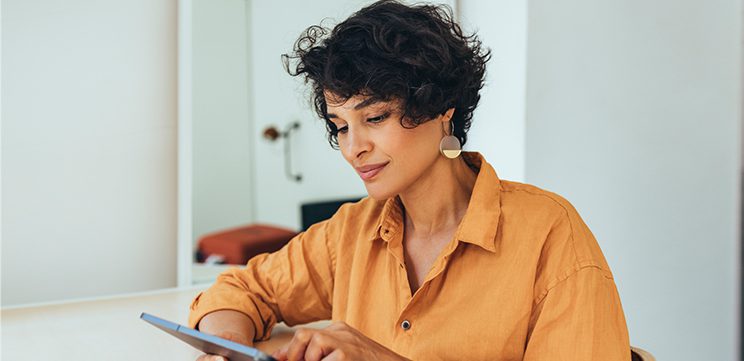 Many of today's healthcare consumers start their patient journey on your website, which is why having an online scheduling system is vital for patient acquisition. However, it takes more than just deploying a patient scheduling system to drive adoption. The health systems that experience the greatest success with online scheduling integrate it into their long-term marketing and patient communication strategies. Whether you have an extensive marketing budget and large team, or you run a lean, agile marketing program, we've outlined best practices your organization can utilize to better promote your online patient scheduling system and online check-in.
DEFINITION OF ONLINE SCHEDULING:
Online scheduling is a global term, which references appointments with physician practices, laboratories, and other service lines.
DEFINITION OF ONLINE CHECK-IN:
Online check-in refers to requesting projected treatment times at emergency departments, urgent care centers, and labs
1
Make Patient Scheduling Links Clear on Website and Mobile
Patients may not always start their journey on your health system's website, but their journey almost always leads them there. That's why it's important to build online patient scheduling into your digital strategy to drive new visitors and conversions to your scheduling pages as well as advertise your facility's ability to conveniently schedule online.
Multiple Pages — give patients the ability to book appointments on every page of your website. Do this by including a scheduling link in the menu, on each carousel banner, with buttons, in strategic callouts, and in the footer of your site.
Mobile — ensure that online scheduling is highly visible and easy to locate from any mobile device. Also, confirm that calls-to-action render correctly on mobile, your registration form loads properly, and that everything is easily accessible.
CTA Placement — place the call-to-action (CTA) above the fold on short pages with less content and both above and below the fold on longer pages that have more content.
STAT:
One client that uses
Carenet's Online Appointment Scheduling Solution
across more than 4,800 sites indicates mobile traffic is 2x higher than desktop.
2
Website Copy & FAQs About Your Patient Scheduling System
Online scheduling should be convenient and simple, and so should the copy to promote it. Keep website copy and scheduling CTAs clear and concise. Start by incorporating the patient scheduling system into existing web copy in a harmonious way through backlinks, instructions, and answers to frequently asked questions.
FAQs — provide answers to frequently asked questions and revisit them periodically based on patient experiences and feedback.
Disclaimers — offer an online check-in disclaimer highlighting the fact that treatment times are not guaranteed.
TIP:
Emphasize that online scheduling is free, easy-to-use, and available to all patients regardless of insurance status.

3
Promote Your Patient Scheduling System with Search Engine Marketing
Every healthcare practice wants to show up as the top search result on Google for services they provide. To be at the top of the search results on Google, it's crucial for your organization to increase the effectiveness of your search engine marketing (SEM) for your patient scheduling system.
Branded Pages and Vanity URLs — dedicated and branded web pages for online scheduling create additional opportunities for you to rank higher in Google searches on keywords relevant to service lines and facilities in your geographic market. Consider using vanity URLs to point web visitors to an abbreviated, branded page for quick access to your patient scheduling system.
Paid Search — carefully research keywords and optimize paid search campaigns to help you acquire new patients. Campaigns should be geotargeted based on your healthcare consumers' locations and should leverage carefully curated and comprehensive sets of keywords for each facility or service line.
Boost Campaigns for New Schedules — develop boost campaigns for each new schedule to drive traffic for at least the first 90 days.
STAT:
One urgent care campaign drove 438 conversions with a CPA of $2.30 & a 43% conversion rate over a three-month period.
4
Make it Easy for Patients to Schedule Appointments Online with Search Engine Optimization
A successful hospital, practice, or healthcare organization website facilitates patient communication and helps you win more of the patients you want. But this means little if patients can't find your website online. Your online scheduling landing pages should be optimized for search engine optimization (SEO) to ensure your scheduling pages are easily found when a patient searches for care.
Keyword Search — keyword research helps you identify keywords that appeal to your target audiences and expand the reach of your content. Use keyword research tools such as Google Ads, Moz, or SEMRush to help identify what kinds of content users are looking for on any given topic.
Google My Business — use Google My Business to claim the information of each of your health system's locations, add details about services, and personalize your business profiles on Google Search and Maps.
STAT:
In 2019, 34% of all patients who scheduled through Carenet's Online Appointment Scheduling Platform were new to the health system. Source: Carenet's Online Appointment Scheduling Platform Data, 2019.
5
Use Social Media to Boost Your Patient Scheduling System
Integrate your patient scheduling system into your social strategy, educating patients on the availability of the service and pointing them to where they can convert. Sharing posts across system-managed social networks can encourage colleagues at other sites as well as employees to share posts on their social networks to connect with new audiences and amplify your reach.
Organic Posts — develop and nurture your followers without burdening the audience by following the rule of thirds with your social content: 33% should be promotion; 33% should share ideas from thought leaders or customers, and 33% should build your brand through engaging conversations.
Paid Posts — paid social media helps you target audiences and drive conversions with greater speed to market, campaign sustainability, and message frequency. Begin by setting your objectives, identifying your budget, and building your ads.
Hashtags — hashtags increase engagement, build brand awareness, add context, and help your audience find you. The best hashtags are relatively short and easy to remember but don't overuse them.
Measurement — measuring your success starts with setting goals around your initial strategy, then measuring the progress throughout the campaign.
TIP:
On Facebook, aim for two posts per day to keep your audience interested.

6
Public Relations Can Promote Online Patient Scheduling
Announcing the availability of your online patient scheduling system to the press emphasizes that patient-centric care and convenience are top priorities of your health system. For organizations with tighter budgets, PR can be one of the most cost-effective and trusted ways to reach a broad audience.
Hone Your Message — physician practices, laboratories, and other sites can let the press know that their calendar is now open to patients, that busy patients can now schedule appointments online 24/7 at a time that is convenient for them, and that same-day visits may be available.
News Releases — a strong news release with a local angle highlighting a new service line is a great way to gain media attention. Place your release on one of the many newswires that distribute news directly to journalists.
Pitch the Press — target reporters who cover healthcare or consumer trends with a personalized pitch. Keep your email subject line short and specific.
Contributed Content — editorial teams can be limited and overloaded, so offering an expertly written article can help provide value to the publication's readership — and your partners in the press. Articles should be written as neutral thought leadership pieces, not an advertisement.
TIP:
Articles should be written as thought leadership pieces that are neutral but that elevate your company's key messages and leads the reader to believe in your value props.
7
Use Internal Communications to Support the Patient Scheduling System
Introducing your staff, affinity groups, and other stakeholders to online scheduling and online check-in supports successful adoption. You will also need to ensure online schedules are part of ongoing training, new hire orientation, and the integration plan for new sites or teams into your health system.
Across All Channels — when developing your internal communications plan, incorporate announcements, reminders, and details across all channels such as digital ads, social media, posters, flyers, and more.
Internal Education — be sure to provide regular educational opportunities of varying depth to reinforce learning and provide periodic updates. Consider regular webinars and training for stakeholders and users.
Identify a Champion — leadership and staff must support the rollout of the online patient scheduling system and serve as champions for its ongoing use. The champion should promote online scheduling with staff and monitor internal communications channels for its inclusion.
Announce It —your health system should send an initial email announcement with a link to the patient scheduling system. Be sure to include instructions, and, when appropriate, include a PDF of a panel card or flyer.
TIP:
When designing a slide about your online scheduling, remember to KISS – Keep it Simple & Straightforward. The fewer words you need to prove a point, the better.
8
Print & Patient Communications Can Publicize Online Scheduling Options
Amplify your digital marketing activities with print and patient communications. An omnichannel strategy with consistent messaging across the entire patient journey will help you attract and retain patients.
Print Collateral and Banners — provide print collateral such as appointment cards, panel cards, and flyers at registration, welcome desks, and reception areas. Use them in discharge packets and at community events, health fairs, and with partners
Direct Mail — health systems see great success with direct mail. Develop dedicated campaigns to highlight how 24/7 scheduling or check-in facilitates patient access and convenience or include reminders in patient mailers.
Patient Communications — when working through your communication plans, be sure to integrate all your patient communication channels. Promote online scheduling in appointment reminders, emails, texts, on-hold messaging, IVR, and other channels that reach patients.
9
Push Awareness of Your Patient Scheduling System with Traditional Advertising
Advertising offers a powerful way to capture patients and their families' hearts, imaginations, and attention. Campaigns can emphasize the convenience, choice, and quality that online scheduling and online check-in offers patients and can help to improve loyalty and patient acquisition.
Print Ads — print ads can be a cost-effective way to promote online scheduling and attract new patients. Ads that address a specific problem, solution, and reasons to select you are the most effective.
Radio and TV — often used for its broad reach, broadcast advertising continues to be part of the marketing mix for many health systems looking to increase visibility and awareness in support of other direct response channels.
Outdoor — explore outdoor advertising based on your local market. Traditionally thought of as billboards, outdoor advertising now encompasses the full gamut of out-of-home (OOH) advertising.
TIP:
Campaigns can help improve loyalty and patient acquisition. Build your advertising mix based on your budget and target audience.
10
Focus on the Patient Experience
With many marketing channels covered, some organizations go the extra mile to help make online scheduling an exceptional patient experience. Spend some time thinking through innovative ways to reach patients and promote online scheduling.
Personalized Experiences — create personalized experiences for patients who use your online patient scheduling system. Consider offering a dedicated waiting room for patients who book their treatment time online or preferred parking spots for online scheduling users.
Reporting and Analytics — ensure you look at KPIs such as patient use, throughput, demographic patterns, and patient satisfaction. Use this data to measure overall performance and build lists of patients for personalized outreach.
Staff Scripts — scripts help providers, front desk staff, and call center agents deliver friendly, personalized, and consistent greetings for patients who check-in or schedule appointments online.

For more best practices for marketing online scheduling and online check-in, plus free templates to leverage in your campaigns, download our
Best Practices in Patient Scheduling for Healthcare Marketers.