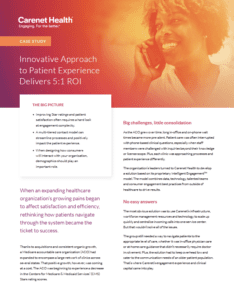 ​As fee-for-service payment models continue to transition to value-based ones and consumers demand more exceptional experiences from their providers, innovative patient engagement models will become even more critical.
In our latest case study, we examine what happened when an expanding healthcare organization's growing pains began to affect patient satisfaction and team efficiency—causing the ACO to rethink how patients engage and navigate through the system.
Download our new case study to learn:
> How relieving overburdened team members can impact Star ratings and patient satisfaction
> What a successful, multi-tiered patient navigation model looked like for this Carenet client
> How the new patient engagement model streamlined processes and positively affected the patient experience
> The role demographics should play when designing patient engagement strategies
Complete the form below to download your Carenet Health content.
Thank you for your interest. Together, we can make consumer engagement the ultimate difference-maker in healthcare.