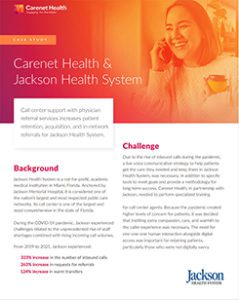 Call center services with live voice scheduling increases patient retention, acquisition, and in-network referrals for Jackson Health.
We surveyed more than 1,004 healthcare consumers across the United States. Our report sheds light on the current high and low points in the patient journey. It also illuminates how evolving consumer preferences and expectations are impacting health systems today. Read on for a glance into the future of patient engagement.
Complete the form below to download your Carenet Health content.
Thank you for your interest. Together, we can make consumer engagement the ultimate difference-maker in healthcare.