The COVID-19 pandemic has shifted consumer expectations and behavior in just about every facet of life—from ordering groceries to conducting business meetings to scheduling appointments. Changes in the healthcare consumer experience are especially striking: More than half of consumers say they interact with the healthcare system differently today than they did before the pandemic began.
It's clear patients and health plan members are empowered to demand more now. They're more comfortable with self-service. But they also want healthcare delivered to them when, where and how they want it. Oh, and they want a streamlined, cohesive experience. And really, who can blame them?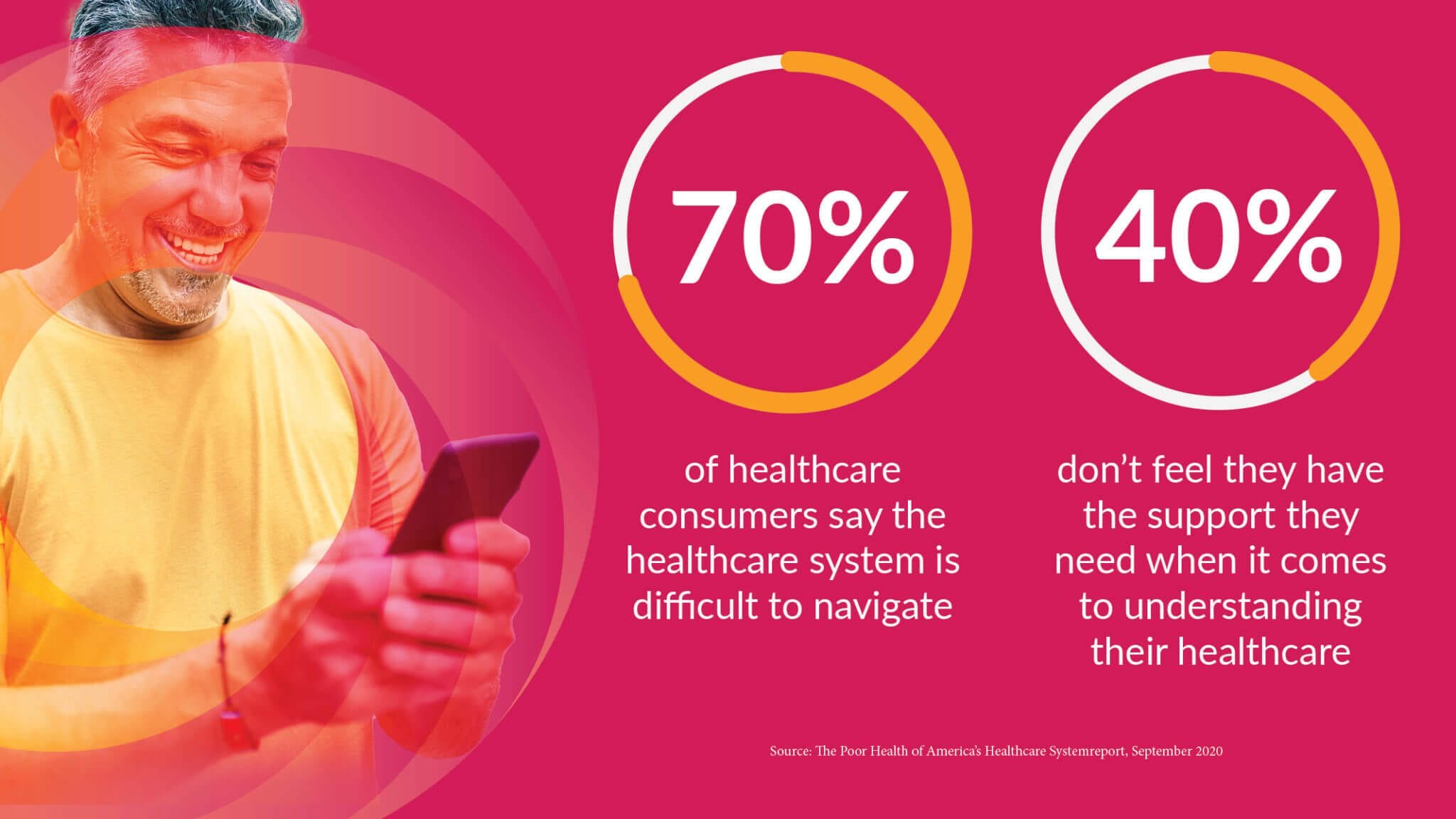 In our 2022 Healthcare Consumer Engagement Forecast, we discuss these shifts and what they really mean for improving the healthcare consumer experience, satisfaction and trust. After all, as consumers rethink what they want from their healthcare experience, those who can serve their changing needs will set themselves up for growth.
Let's look at some of the ways your healthcare organization might approach the transition.
Transparency and the need to deliver on trust
Consumers' trust in the healthcare system has been shaken during the pandemic. Misleading and false information, lack of consistent messaging, communications missteps and voids, cyberattacks … the confidence picture isn't pretty out there. Forrester predicts this lack of trust will cause more patients to avoid treatment, which will further impact population health and the economic health of the industry.
Consumers want better ways of addressing both physical and mental health challenges. And that includes more transparency in costs and how treatments are determined, and more choice in which healthcare organizations they engage with and how that engagement happens. Consider that 60% percent of patients say they would switch providers for greater trust and respect.
Carenet Health President Mick Mazour says these trends are important to keep in mind.
"Consumers are no longer going to be content with healthcare organizations that are merely transactional in their engagement—processing claims, scheduling appointments," he says. "They want meaningful relationships and a true anticipation of their specific personal needs. Fortunately, we're seeing more and more health plans and health systems taking the right steps to make that happen."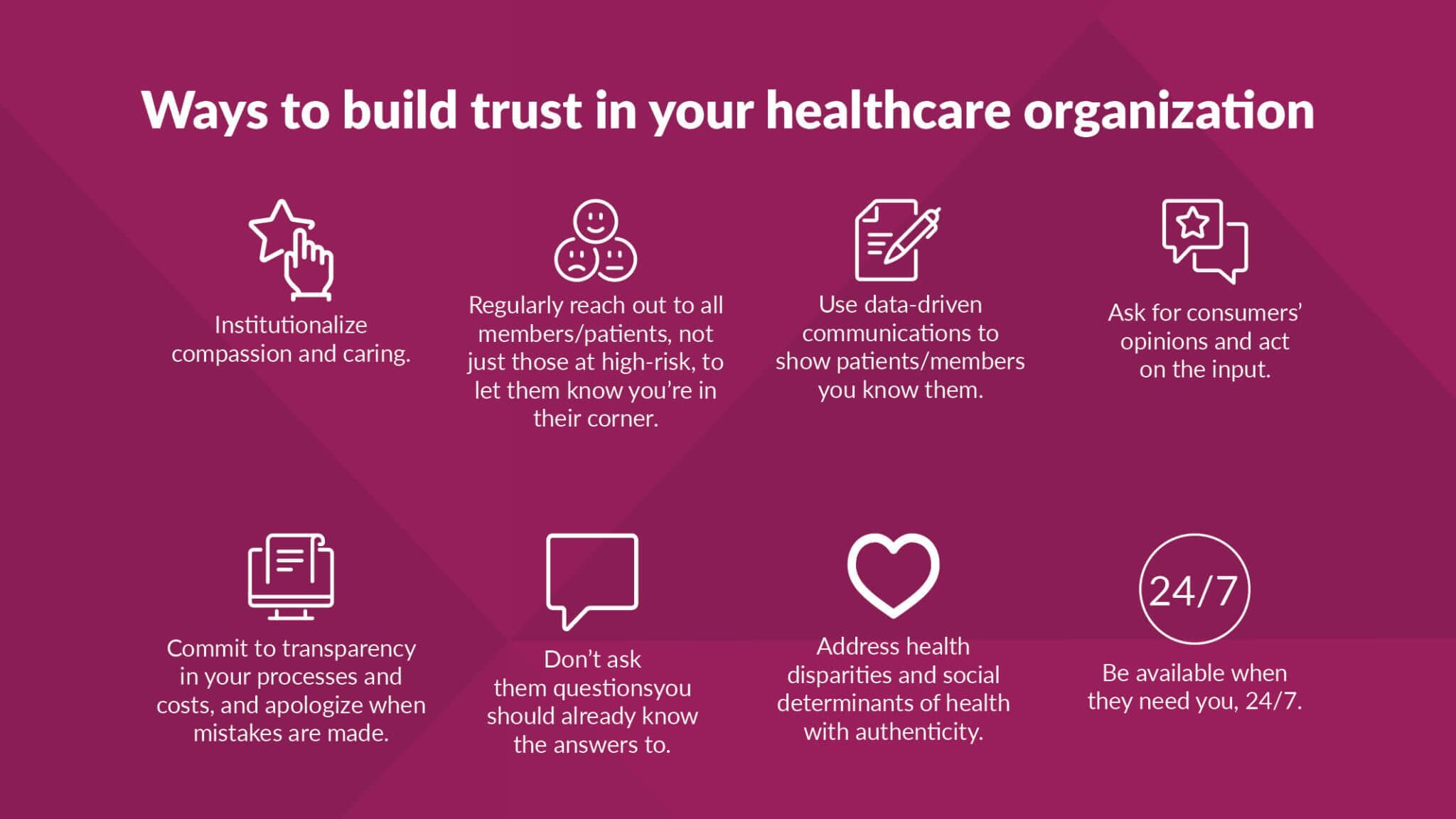 Healthcare experiences that align with how consumers manage their daily lives
Personalization and convenience have never been more important. What does that look like in reality? Digital health, telehealth, remote monitoring options. Networks organized to serve patients in new ways. Better design and implementation of 24/7 service and support.
Why is this so critical right now? Because healthcare consumer satisfaction ratings show there's a problem. According to the Verint Experience Index, the average customer satisfaction score for health insurers is 79.8 out of 100. Average hospital patient satisfaction scores are comparable or lower. 
To turn those numbers around, you'll need to take a proactive approach.
Balance your engagement frequency and relevancy to hit the mark
A factor in making these visions a reality will be patient and member experience road-mapping. Vikie Spulak, Carenet's Chief Client Officer, says this is a hot topic right now. "It's really about determining the best ways to build trust and deliver on satisfaction without causing engagement fatigue and abrasion," Spulak says.
Healthcare service companies, payers and providers that can tailor their engagement strategies and service design to the new healthcare consumer—and do so with empathy and transparency—will be the ones to capitalize on the change.