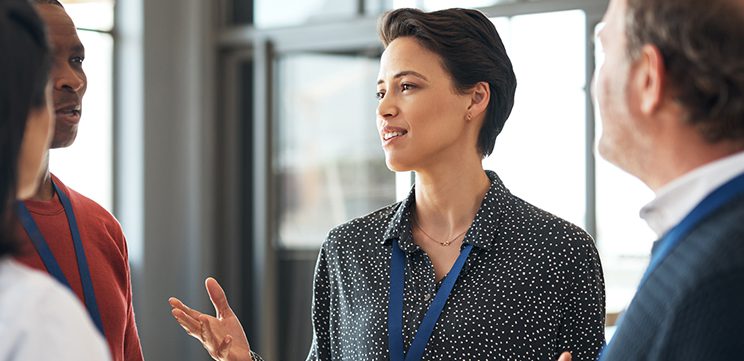 It's been great connecting with our clients and friends from across the healthcare industry at the AHIP and RISE 2023 conferences. These events provided a fantastic platform for learning, networking, and we learned some valuable insights from industry peers, customers, and new colleagues.
Here's a quick recap of the issues and conversations we shared which made this year's AHIP and RISE conferences memorable and highly attended healthcare industry events.
1. HRAs: Managing the volume of health risk assessment (HRA) outreach necessary to understand member populations is increasingly challenging. As reliance on technology solutions alone is commonplace, Carenet Health's Chief Client Officer Vikie Spulak, explains why a human-anchored approach to HRAs is a more effective way to gather this vital information.
"HRAs provide a crucial view into member and population health, so why rely on technology alone to collect necessary information?" she asks.
"Our experience implementing hundreds of HRA programs through the years has shown that passive digital methods alone do not significantly increase HRA completion rates."
Vikie Spulak, Chief Client Officer, Carenet Health.
Using digital tools can still be a smart way to gather needed information, but certain groups and individuals simply respond better to one-on-one interaction than more impersonal tactics such as automated phone calls or emails. Effectively engaging, educating, and activating members throughout the HRA experience builds rapport and trust, fostering accountability.
The significance of Health Risk Assessments and how they can drive proactive healthcare management is often overlooked and must not be underestimated for proven efficiencies in population health management, and higher HRA completion rates.
2. Member Advocacy: Since the pandemic, a lot has changed in the ways providers and plans interact with patients and members alike. Savvy healthcare consumers have become more aware of their choices. Whether it's a telehealth versus in-office visit, at-home lab work. or making an appointment by SMS or online, they want seamless, satisfying experiences around the clock.
Not only are members behaving in new ways, but health plan leaders are as well. They are beginning to see their market in the same customer-centric, retail-oriented way that banking, telecommunications, and retailers see theirs: a place where customer care along every point of the consumer experience matters. By re-envisioning this experience, the health plan industry can see increased cost savings, efficiencies, and outcomes.
Traditionally, healthcare organizations have siloed their touchpoints, outsourcing as much as 30% to multiple suppliers. Today, more healthcare organizations are responding by seeking consolidation strategies that reduce internal costs, internal infrastructure IT costs, and vendor management challenges, while improving member health outcomes.
How healthcare organizations advocate for their members is increasingly important – carefully managed interactions, be it from coaching, testing, or offering dedicated telehealth, supports personalized care, resulting in meaningful patient and member engagement.
3. Risk Adjustment and Impact: Health plans are working in the weeks and months ahead to obtain and document updated member information during the post-pandemic Medicaid redetermination process.
As states and managed care organizations (MCOs) contend with the end of Medicaid's continuous enrollment period, now is a critical time for health plans to ensure they are optimizing their Medicaid and Medicare health risk assessment (HRA) processes. Low completion rates, engagement strategies that lack personalization, relevance, and choice, as well as outdated outreach tactics, are all factors that can drive substandard HRA data.
Proactive steps to address opportunities for health and wellness intervention include providing multi-language support, follow-up strategies for non-participants, and resources in place to integrate collected data into member profiles as quickly as possible.
By following best practices and deploying innovative approaches to collecting information, organizations can achieve robust response metrics to effectively evaluate members' health risks.
To provide members with cost-effective, quality care, health plans should routinely refine their efforts to comply with the requirements of the Centers for Medicare and Medicaid Services (CMS) to maintain member information that's accurate, up-to-date, and complete.
We believe that together, we can make a significant impact on improving healthcare delivery and outcomes for the populations we serve, which is one of many reasons we appreciate attending events like RISE and AHIP.