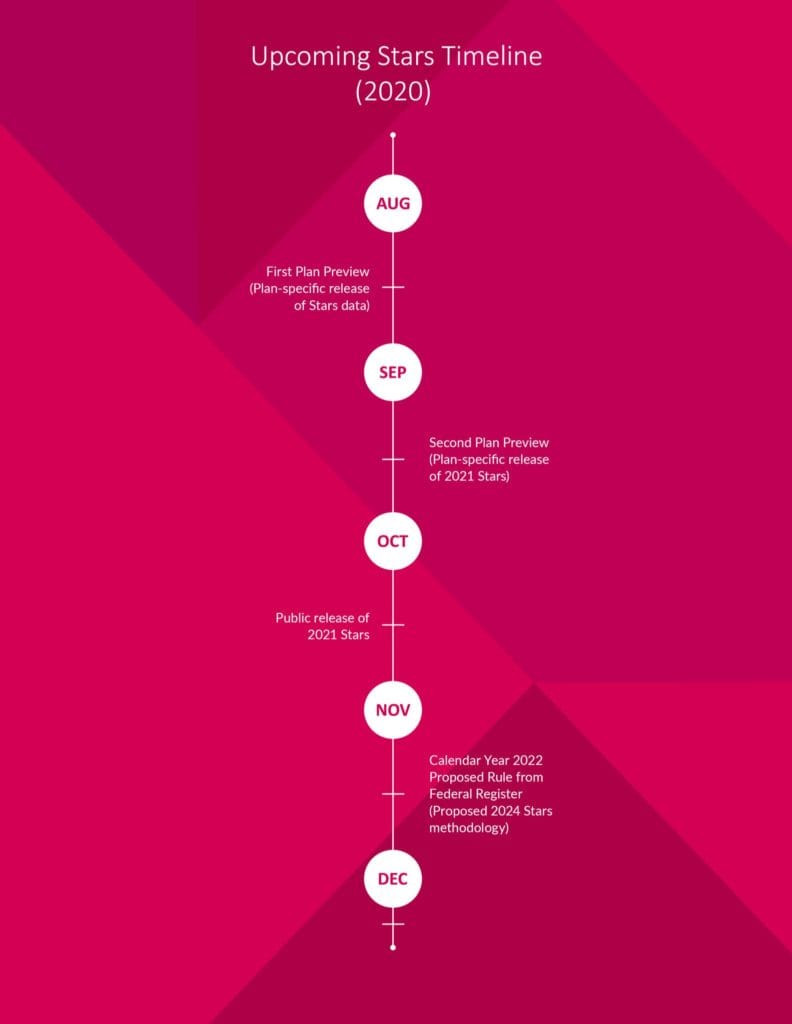 Last week, Carenet Health hosted a Mapping the Stars 2020 Virtual Collaboration for a select group of Medicare Advantage health plan and Stars program leaders from around the nation. The interactive event featured a discussion led by Stars expert and consultant Rex Wallace, with a segment also provided by David Dodge, Medicare Stars program director at Cambia Health Solutions.
Participants discussed the current uncertainty in Stars planning due to the COVID-19 pandemic, then focused on what the market knows right now from recent Centers for Medicare & Medicaid Services (CMS) announcements, and where Stars programs go from here.
The increased weight and importance of member experience measures was a particularly hot topic. CMS has been increasing the relative weight of experience-related measures from 1.5 to 2, and beginning with 2023 Star Ratings (measurement year 2021), the weight of those measures will increase to 4.
Perhaps most importantly, participants spent time sharing ideas for what health plans can control right now to impact 2022 ratings. With so much up in the air for the Stars program, the group felt it was imperative to have a list of actions that can make a positive difference, regardless of upcoming CMS decisions. We've gathered nine of those ideas here.
What to focus on now: Nine roadmap considerations to impact future Star Ratings
 #1    Check on your members.
Medicare Advantage members need and want to hear from their plans during this tumultuous time, according to several recent studies. That's why the value of reaching out to your members can't be overstated. One-on-one live phone calls, or at a minimum interactive voice response (IVR) or text messaging, can help members feel connected and cared for by their plan.
Resist the urge to combine this engagement with other plan information needs, though. The outreach shouldn't include a call to action of any kind for the member—the goal should be a helpful check-in only—one that assists them with any needs or questions they may have. Here's a quick case study of a Carenet Health COVID-19 check-in program for inspiration.
#2    Take care of your employees.
Your customer service and care management teams in particular are likely taking calls they've never encountered before, thanks to COVID-19. They're fielding calls about everything from where to find hand sanitizer and masks, to what antibody test results mean, to how to get tested for free, to the need for a pulse oximeter at home.
Be sure you're equipping your teams to answer those questions and supporting them during this stressful period. Many are working from home for the first time, which means they may need different types of support than they have in the past, too. Well-trained and supported employees make the best representatives of your plan to consumers.
#3    Stay close to your providers.
Provider engagement is always essential. After all, a majority of a plan's Star Ratings can be linked to what happens or doesn't happen between patients and providers. With unprecedented practice closures and reduced hours, it's even more critical to reach out to your provider network to find out if they're open, how and when they're accepting patients, and what support your plan can provide.
Telephonic outreach is a good tool for this and can go a long way toward improving provider-plan trust.
#4    Leverage telehealth and educate members and others on how to get the most from it.
Telehealth has been plunged into mainstream healthcare now, out of necessity. But that doesn't mean everyone knows how to use it—and that includes not only your members, but your provider network and internal teams.
Consider developing tools to help different audiences understand the benefits of telehealth. Support its continued adoption with instructional videos, positive testimonials, quick information on how to prepare in advance—anything that can prepare individuals for accessing and getting what they need from virtual care.
There is mixed data on the Medicare population's use of telehealth during the pandemic, so developing keys to success will be necessary for your plan. One study found that only about 25% of senior patients had appropriate technology and knew how to use it.
#5    Utilize non-invasive in-home testing to close select HEDIS® gaps.
Closing care gaps has been made more difficult by the pandemic and the resulting anxiety over potential in-office exposure and access to routine screenings. Many health plans are wisely working with in-home lab vendors to proactively offer easy-to-use kits for preventive care like fit tests, diabetic testing, colon cancer screening and chronic kidney disease testing.
If you've been thinking of implementing these types of programs, use these next few months to see what works and what doesn't. We already know, however, that success requires strategic communication with members before and after their testing.
#6    Prioritize actions related to diabetes measures.
Diabetic and pre-diabetic patient outreach is a valuable area to emphasize in today's environment, as it's likely your members have been postponing in-person care, regular testing and overall contact with healthcare professionals since March. That void in treatment and care can have long-term effects on overall health.
Comprehensive engagement of these members should go beyond checking the at-home testing box. Consider tailored care management outreach by phone, follow-up texting support and routine phone check-ins—phone calls that can be warm-transferred within your plan based on a member's needs. Making sure your member can receive their supplies and medications should continue to be top of mind.
Helping diabetic members use telehealth for disease control is a sensible idea, too, as is leveraging outreach to this high-risk COVID-19 population with reminders on safety.
#7    Focus on behavioral health.
The mental health of your members affects so much—including their physical health, quality of life, satisfaction with your services, HOS scores and more. And it's no secret that depression, anxiety and loneliness have been increasing in seniors since the pandemic began.
Now is the right time to improve your plan's engagement with members about their mental health. Make sure they know about the resources you offer, especially any behavioral health-specific crisis support, your 24/7 nurse triage line and virtual counseling. Make them aware of the costs, if any, to use these benefits and educate them about the self-help tools available, as well.
#8    Enhance your transitional care management.
The Plan All-Cause Readmissions measure is returning, and there are two new transitional care measures on the horizon. Remember, transitional care coordination requires substantial energy and focus on the part of a health plan and its partners. So put in the work now to fully integrate processes, enhance your performance and improve member satisfaction.
#9    Develop member sentiment reporting.
One of the most essential initiatives discussed at the virtual collaboration event was developing a plan to gather, report and act on member sentiment. With patient experience measures increasing in weight in the Stars program, and net promoter score (NPS) a future Stars measure, plans need to fully understand member sentiment as soon as possible. Frequent satisfaction and NPS surveys are recommended, as is socializing the findings internally.
Another vital factor in member sentiment studies is being able to correlate the findings to specific provider groups and geographic areas—so that you can identify where your best opportunities lie in improving member satisfaction and experience.
If you'd like to discuss any of these ideas in more depth, please reach out to Rex at rex.wallace@rexwallaceconsulting.com or contact our Carenet Health experts.
———–
Watch for more content on the CMS Star Ratings program for Medicare Advantage plans coming soon from Carenet Health and Rex Wallace Consulting.
If you'd like to be considered as an applicant for future Mapping the Stars workshops, please contact us with a quick note.
HEDIS® is a registered trademark of the National Committee for Quality Assurance (NCQA).