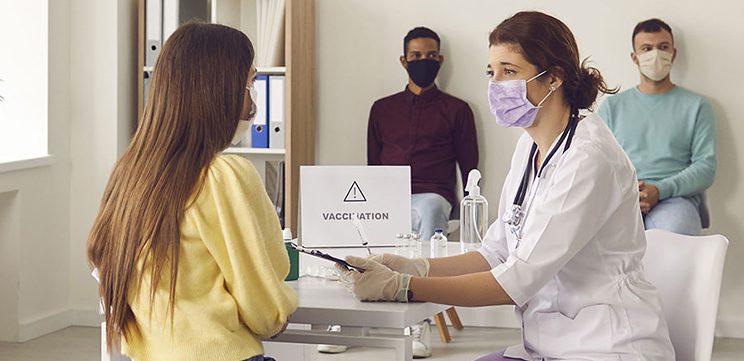 Healthcare consumers expect convenient, high-touch, and technology-driven patient experiences more than ever—especially when it comes to flu shots. As more non-traditional healthcare providers enter the space, consumer demands are increasing exponentially. Health systems can create exceptional patient experiences with the right combination of communication and scheduling services.
5 Key Considerations to Meet Consumer Expectations for Flu Shot Clinic Operations:
1
Meet healthcare consumers where they are at. Share links to your flu shot clinic scheduling page, location of clinics, and information on the importance of vaccinations. Send to large audiences quickly and efficiently with healthcare broadcast messaging. During the 2019-2020 flu season, 44% of patients who booked flu shot appointments online through Stericycle Online Scheduling did so on their mobile devices.
2
Capture consumers before they leverage non-traditional walk-in clinics and provide the experience they expect with online scheduling. Allow patients to schedule, confirm, and reschedule appointments online. Subscribe patients to future marketing communications expanding your patient lists for promoting future health and wellness campaigns. During the 2019-2020 flu season, 30% of patients who booked flu shot appointments online through Stericycle Online Scheduling were new to the health system.
3
Send Flu Shot Reminders
Utilize appointment reminders so patients don't forget upcoming flu shot appointments. Share other important information via email, text, and recorded voice reminders, such as visit instructions, clinic operational hours, and weather closures. Natural language processing answers patients' simple questions saving staff time and resources.
4
Outbound Phone Calls to High-Risk Patients
Remind high-risk patients why it's important to receive the flu shot. Answer any of their questions or concerns and schedule their appointments over the phone. Create HIPAA-compliant direct marketing campaigns based on patient demographics, medical history, physician, service line, location, and more.
5
Streamline inbound calls from patients and staff with questions about the flu shot and how to book appointments. Ensure that your health system can answer questions in the patient's preferred language to drive access, action, and adherence.
Our Health & Wellness Campaigns help you conduct personalized patient outreach for flu shot promotion, education, scheduling, and reminders without the extensive time commitment and extra resources from your staff. Health & Wellness Campaigns simplify complex patient engagement and simultaneously increase revenue and satisfaction scores. To learn more about our Health & Wellness Campaigns, visit our webpage.