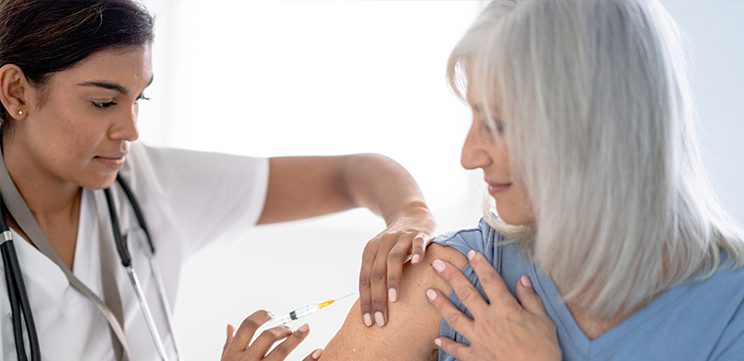 The FDA recently approved the first RSV vaccine (Arexvy) for seniors, infants, and expectant mothers— populations that are at the highest risk of serious complications from the virus. The new RSV vaccine was shown to significantly reduce the risk of severe RSV complications in seniors in an ongoing large clinical study.
This year, the CDC recommends that adults aged 60+ get both the RSV and flu vaccines, in addition to regular COVID vaccines or boosters. To increase population vaccine coverage, healthcare providers and health plans need to reach out to eligible individuals. Carenet Health's Communication & Reminders and Intelligent Scheduling solutions can help you reach qualified patients and members to encourage them to get their RSV, flu, and COVID vaccines this fall.
Carenet Helps Improve Vaccination Rates
Despite high efficacy rates, 46% of eligible Americans did not get their flu shot during the 2022-23 season. How can providers and health plans increase the number of people who receive these life-saving vaccines?

Carenet's Communication & Reminders and Intelligent Scheduling solutions help providers and health plans efficiently and effectively engage patients and members through:
Omnichannel vaccine reminders & instructions
Message broadcast
Convenient digital self-scheduling
Live voice scheduling
Medicare/Medicaid member outreach

Omnichannel Patient and Member Engagement Drives Results
Carenet's omnichannel support for communication, reminders, and scheduling enables patients and health plan members to be contacted via their preferred mode of communication, whether that's text message, email, or live phone call. Carenet's 2022 Patient Engagement Survey found that older adults with PCPs were most likely to respond to phone calls (49%) from their provider's office, followed by email (23%), and text messages (13%). Younger adults showed a less strong preference for phone calls (37%), followed by email (23%) and texts (17%).
The survey also found that the majority of patients prefer at least one appointment reminder. Of respondents who had missed an appointment in the past year, 27% forgot about their appointment, and 24% did not reschedule the appointment. Multiple omnichannel appointment reminders can help patients remember to schedule and attend their appointments, which is crucial this vaccine season.
Multiple top hospitals and health systems have leveraged Carenet's patient engagement solutions to increase appointments scheduled and decrease no-shows.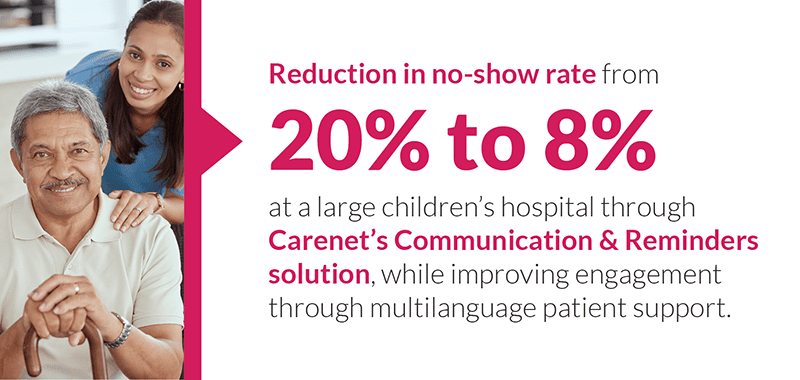 At an east-coast children's hospital, Carenet's Communication & Reminders solution reduced the no-show rate from 20% to 8%, while also improving engagement through multilanguage patient support.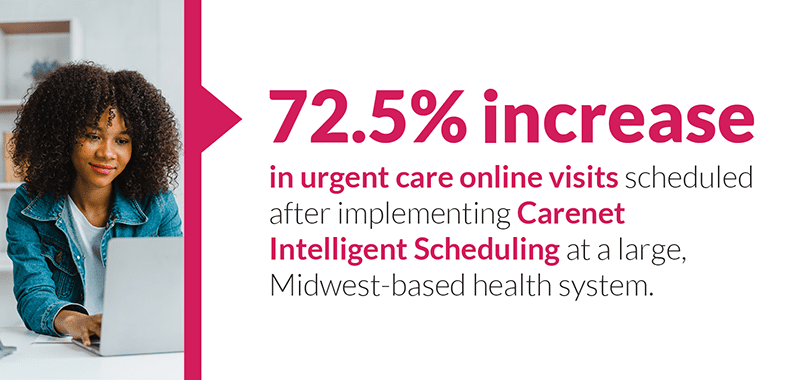 Another large health system, based in the mid-west and operating in 21 states and the District of Columbia, achieved a 72.5% increase in urgent care online visits scheduled and 100,000 additional visits in one year after implementing Carenet Scheduling.
Engage Patients and Members Today for a Healthier Tomorrow
Healthcare providers and health plans can encourage eligible individuals to get their RSV and flu vaccines and improve population vaccine coverage through the right combination of intelligent communication and scheduling services.  
Carenet's strategies such as high-risk patient/member outreach, omnichannel scheduling, and more help to engage patients and members in their own health and improve community care access and health outcomes.
To learn more about how to engage and educate patient and member populations, download our Health & Wellness Campaigns data sheet.