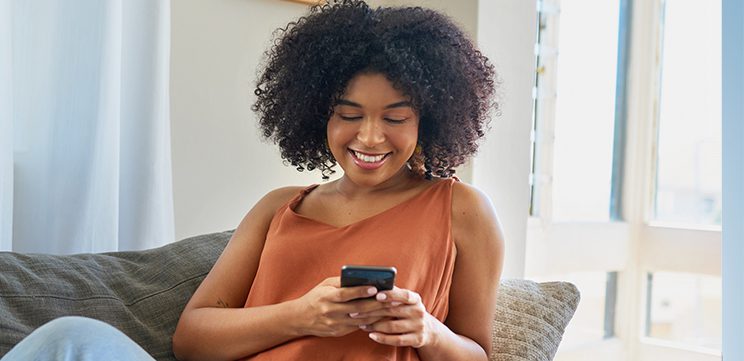 Four ways to help reduce unnecessary emergency room visits in your health plan population
Health plans need to lower ED costs, no matter what type of populations they serve—from Medicaid and Medicare to private, commercial plan members. Non-urgent emergency room visits cost the U.S. $4.4 billion annually. Reasons for non-urgent ED visits include lack of knowledge of other care options and lack of access to non-emergency care. One CDC study found that 80% of adults visited the ED because they couldn't get the care they needed from a primary care physician, and a growing shortage of primary care doctors is expected to further compound this issue.
Fortunately, there are several steps health plans can take to turn the tide. As a healthcare engagement and telehealth partner, Carenet optimizes health plans' ED diversion programs and reduces costs associated with avoidable ED visits.
Here are four ED diversion strategies we believe can help your organization prevent unnecessary ED visits and the associated costs.
Proactive healthcare member education and engagement
Post-ED visit follow-up
Health plan provider selection and appointment scheduling
Telehealth care promotion and coordination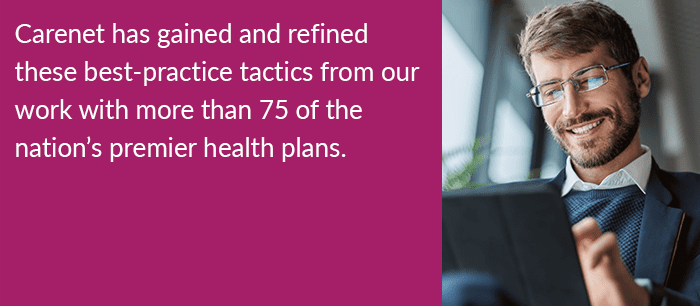 1. Proactive Healthcare Member Education and Engagement
Research shows that a large segment of health plan members is simply unfamiliar with how their insurance coverage works and unaware of care setting options. That makes pre-emptive education critical for helping members receive the right care at the right time while keeping costs down.
At Carenet, we know that a comprehensive and consistent engagement initiative can help. The strategy should be multi-channel, multi-touch and multi-seasonal. Incorporating information into member onboarding communications and welcome calls works especially well as an educational primer, but a "one-and-done" approach without continuing follow-up won't be enough to have a lasting effect.
Prioritizing targeted population segments, such as high-cost/high-need or ED super users, can drive substantial progress, as well. Personalizing individual communications based on claims, demographic and other data will deliver heightened relevancy. Overall, proactive member education can help members choose the most appropriate care setting, improving emergency department/hospital diversion for conditions that are treatable with non-emergency care.
In a partnership with a large, 15-state health plan serving 5 million Medicaid and Medicare Advantage members, Carenet's ongoing member engagement and telehealth behavioral health support helped 95% of participating members avoid expensive behavioral health-related ED admissions.
After seven months of the Carenet program, member satisfaction was high, and the health plan was more resource-efficient and cost-effective.
2. Post-ED Visit Follow-Up
Communication and education after an ED visit can also be beneficial in preventing future avoidable use. At Carenet, we've seen good results (and in one case, a 3:1 ROI) by conducting follow-up calls within 72 hours of ED discharge.
In one specific client case , our engagement team initiated a quick intervention after one unwarranted ED visit versus the plan's original strategy of three visits. A list of the most frequent non-urgent ED conditions, such as sinusitis and sprained ankle, was used as the trigger for outreach. This ER diversion strategy resulted in $14 million in cost-savings over the course of several years.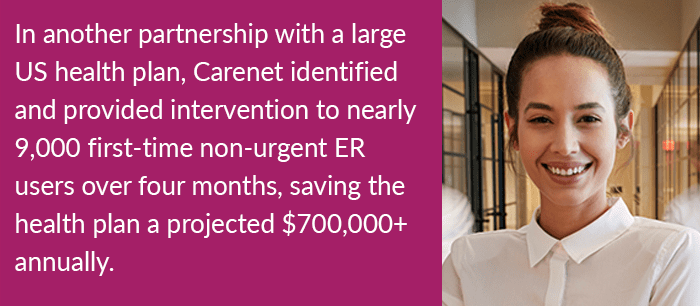 3. Health Plan Provider Selection and Appointment Scheduling
Helping healthcare consumers develop a relationship with a primary care physician is important for member health and wellness, as well as appropriate resource utilization and health plan performance.
Selecting a doctor from a plan's in-network list can be overwhelming, and too many plan websites and provider lists are out of date. That's why a high-touch communications strategy and scheduling support like Carenet's can make a big difference in helping plan members make their best-fit provider decisions earlier (when there is no pressing care concern) rather than later (when stress and worry levels are high). Plus, connecting members with primary care doctors helps ensure better preventive care and treatment adherence—which also helps them stay out of the ED.
4. Telehealth Care Promotion and Coordination
Three-quarters of all doctors, urgent care and ED visits are either unnecessary or can be handled safely over the phone or by video, and 80% of consumers are open to telehealth for non-emergency care.
Many healthcare consumers are simply not aware of the virtual treatment and care options they can access through their plan. That's why all plans typically need to boost their promotion of their telehealth resources to improve utilization. Carenet's member engagement and telehealth services help health plans to promote alternate care routes and reduce unnecessary ED visits.
Resource promotion should include nurse triage and advice lines, MD e-consults, comprehensive Virtual Clinics and virtual/telemedicine behavioral health access points—all staffed by the same quality of clinicians found in traditional brick-and-mortar care settings.
Amping up your telehealth communications to members in rural and underserved urban communities is an excellent place to start the process of improving your ED diversion program.
Learn more about ED diversion strategies
As the leader in healthcare engagement and telehealth for health plans, Carenet can decrease avoidable ER visits and associated costs.
Contact us to set up a time to discuss how Carenet's ED diversion strategies can help you save time, money, and resources.
Working on a nurse triage/nurse advice RFP to find the best vendor for your needs? We have a guide that might help: Nurse Triage Services Request for Proposal: 15 Questions to Ask Vendors