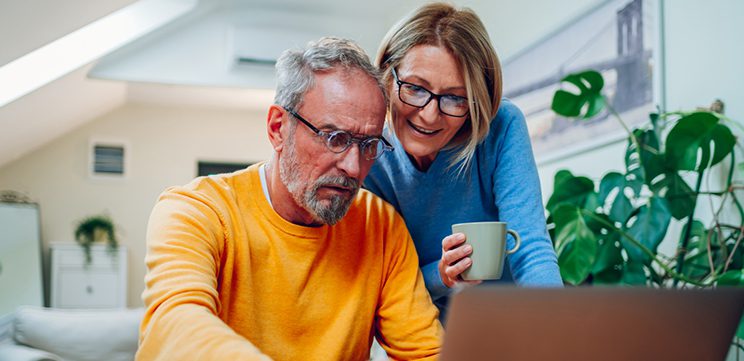 Today's healthcare consumers want convenience and personalization. Carenet's consumer surveys have revealed that patients show a strong and consistent preference for scheduling healthcare appointments online.
Patient self-scheduling should be a fundamental component of every healthcare provider's approach.
Healthcare providers that offer online scheduling and other conveniences such as flexible appointment options and streamlined registration processes will see improved patient satisfaction and retention. Those who don't will struggle to stay afloat in today's competitive healthcare arena.
Online Scheduling Benefits
Patient self-scheduling/online scheduling allows patients to book their own medical appointments through a digital platform like a website or app, eliminating the need to call or visit the provider just to schedule an appointment. For patients, self-scheduling increases the convenience and accessibility of care, and empowers them to take ownership of their health.

Self-scheduling gives providers a competitive edge over those who have more outdated systems. It also improves efficiency and reduces the administrative burden on healthcare workers, driving cost savings.

Carenet's Intelligent Scheduling has many benefits for healthcare providers:
Improved Efficiency: Online scheduling streamlines appointment scheduling processes and reduces administrative burdens.
Reduced No-Shows: Self-scheduling can help reduce appointment no-show rates.
Patient Satisfaction: Online scheduling's ease and convenience leads to more satisfied and loyal patients.
Competitive Edge: Offering patient self-scheduling sets providers apart from others. Self-scheduling is seen as a progressive and patient-centric approach, which can help providers attract more patients and retain existing ones.

Option 1: Patients are more loyal to providers that offer convenience and personalization.
Option 2: Online scheduling can help providers improve patient loyalty and engagement.
Best Practices for Online Scheduling
Implementing patient self-scheduling can be a challenge. Data security and patient privacy issues and lack of integration with existing EHRs and tech infrastructure don't have to be barriers to a successful transition to online appointment scheduling. The right vendor partnership is essential.
Healthcare providers should strategically evaluate their options and implement an effective, established patient scheduling system with a vendor that can help them navigate the challenges of implementation.

No matter the patient scheduling platform or vendor, here are three best practices for self-scheduling:
Communication Strategies: To effectively inform patients about self-scheduling options, providers should use multiple channels, including email, social media, texts, and print materials. Visit our blog for more information on best practices in patient self-scheduling for healthcare marketers.
Patient Education: In addition to making patients aware of self-scheduling options, providers must educate patients on how to use these tools. Some patients may require extra support with steps such as confirming the appointment, completely any pre-appointment paperwork, and entering billing information online.
Staff Training: Patient self-scheduling can greatly reduce the administrative burden on staff. However, in order for self-scheduling to increase efficiency, staff must be properly trained. This also enables staff to better answer patient questions about the scheduling system, further improving the patient experience.
Carenet's Scheduling Solution Increases Patient Satisfaction
St. Luke's Women's Center needed a patient scheduling solution to manage its multiple mammography sites, growing patient population, and high inbound call volume. They implemented Carenet's Intelligent Scheduling, which provided patients with a way to schedule mammography screenings that was convenient and available 24/7.
Carenet's Intelligent Scheduling helped St. Luke's Women's Center attract new patients, retain existing ones, and reduce staff burden — improving access to mammography screenings with the convenience and ease of online scheduling.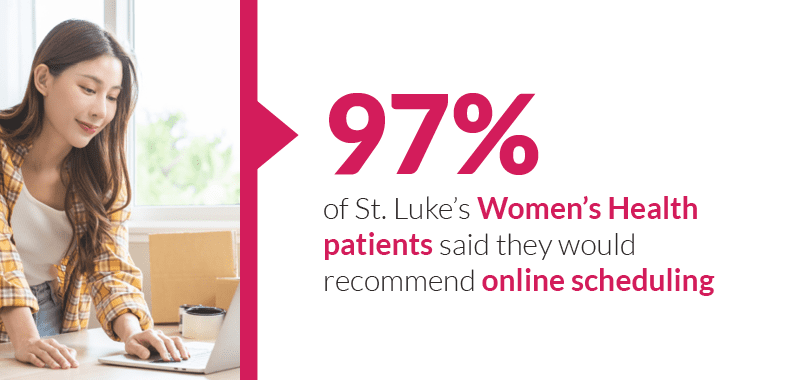 The Future of Patient Self-Scheduling
At Carenet Health, we anticipate that patient self-scheduling will continue to be a necessity at hospitals and health systems.
As adoption of online patient scheduling systems increases, AI and telehealth integration will be used to enhance scheduling processes and improve the overall patient experience. Healthcare providers that wish to stay competitive must take steps now to adapt to new patient expectations by implementing online scheduling through a well-established vendor.
To learn more about how to improve the patient experience with online scheduling, download our Patient Intelligent Scheduling Guide.