Has telehealth reached a critical turning point—including a no copay model?
Learn more by reading this recent AHIP Solutions Executive SmartBrief.
In this SmartBrief Executive Q/A, Carenet CEO John Erwin discusses:
Ways to take telehealth to the next level of cost-savings, customer experience and competitive edge
What a more consumer-centric model of telehealth would look like
How the concept of providing free 24/7 telehealth to plan members is doable right now—and why it could change everything
How aggressive process scrutiny is needed for virtual care to deliver on its promise
What health plans need to know to better integrate behavioral health into virtual care programs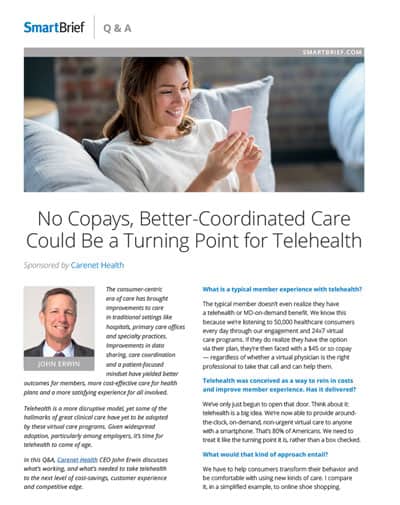 Want to talk with our CEO, John Erwin?
.
Explore the idea of free telehealth for your members.
Complete the form below to download your Carenet Health content.
Thank you for your interest. Together, we can make consumer engagement the ultimate difference-maker in healthcare.